Archie Moore's striking United Neytions installation at Sydney Airport was a project from which everyone emerged a winner.
The colourful array of 28 large flags has added vibrancy to the airport's T1 International Marketplace, it gives a wide audience to the work of the indigenous contemporary artist and millions of passengers gain a taste of contemporary art in Australia and of Sydney culture.
It also does what all art aspires to do: intrigue and engage with its themes of place, identity and boundaries.
As Moore put it at the unveiling: "This opportunity has allowed this series of flags that celebrates issues of place and identity to adopt a scale and status that official international flags have; drawing attention to the histories, voices and presence of local indigenous people on whose traditional lands the airport lies, but also the passages of cultures, pasts, territories, ages and cultural knowledges that airports foster.''
United Neytions was a result of a landmark collaboration between Sydney Airport and the city's internationally renowned Museum of Contemporary Art Australia, known locally as the MCA.  The MCA is dedicated to exhibiting, collecting and interpreting the works of contemporary artists and its collection contains more than 4000 Australian pieces.
A high-powered panel chose the work from a field of eight leading Australian artists for its impact and meaning.
For MCA director Elizabeth Ann Macgregor, it is a piece that ticks all the boxes as an airport installation. The award-winning museum director and OBE recipient has been responsible for providing the MCA with financial stability and boosting its global profile since her arrival in Australia from the UK in 1999.
Macgregor said everyone knew the space in which United Neytions was to be installed presented some unique challenges.
It was, she observed, about as far from the white walls of a gallery as you could get.
But she noted everyone was "absolutely thrilled" with the result.
"We knew it would be great, but it's exceeded all our expectations,'' she added.
So what's the advice for other airports wanting to add some interest, culture and meaning to what can otherwise be bland spaces?
"An airport is place where there's a lot happening, there's a lot of clutter,'' Macgregor said.  "So you really want something very bold, something very striking.
"If I'm honest, it's actually very challenging for artists working in that environment.''
The art expert's advice is to start with areas where there is less clutter such as corridors, where there is space for artwork.
"So initially if you're looking for good places to put art, spaces where there's not a lot else happening are pretty good."
If they have to compete with other things then art that is bold and stands out is the way to go.
"Get them to look at something and get them to think,'' she said.
"Get something that might be a little bit out of the ordinary — and dare I say it, even provocative — to give people something to focus on."
It will not come as surprise to most airports that a sense of place is also a good idea.
"A work of art really can give an identity that's specific to its location,'' she said.
"And artists are really good at that kind of thing, of thinking about the kind of visual representations you might have for a place that you're in."
Macgregor is also a big fan of commissioning art rather than buying it from galleries.
"In the jargon, we talk about something that is site specific,'' she said "So that applies to scale, it applies to content, it applies to colour.
"I think that's why we love working with artists, because they are so imaginative and they come up with fantastic responses to a particular environment.
"So it's not a question of going to gallery and saying: 'Let's buy a few of these works and put them up in the airport.'.
"It's actually a question of saying let's commission something that really does respond to this place in all its complexities."
Airports should also look at opportunities to showcase indigenous artists but again, this moves beyond buying Aboriginal paintings and hanging them on a wall.
"I think there are fantastic opportunities and we know that international visitors are particularly interested in what makes Australia unique and our indigenous art is a very strong part of that,'' she said. 'It's a very important part of our identity from an international perspective."
Airports can also benefit from working with local art galleries, something Macgregor says worked well in Sydney by associating the iconic MCA and airport brands.
But it can also work for smaller airports and regional galleries.
"I think it's a great opportunity to promote what you've got locally, particularly for regional airports who often have these perhaps not so well-known facilities right on their doorstep,'' she said.
"So, yes, it's very much a two-way thing."
Photo above: Sydney Airport Chief Executive Officer Geoff Culbert and MCA Director Elizabeth Ann Macgregor at the unveiling of United Neytions.
By Steve Creedy
---
About Steve Creedy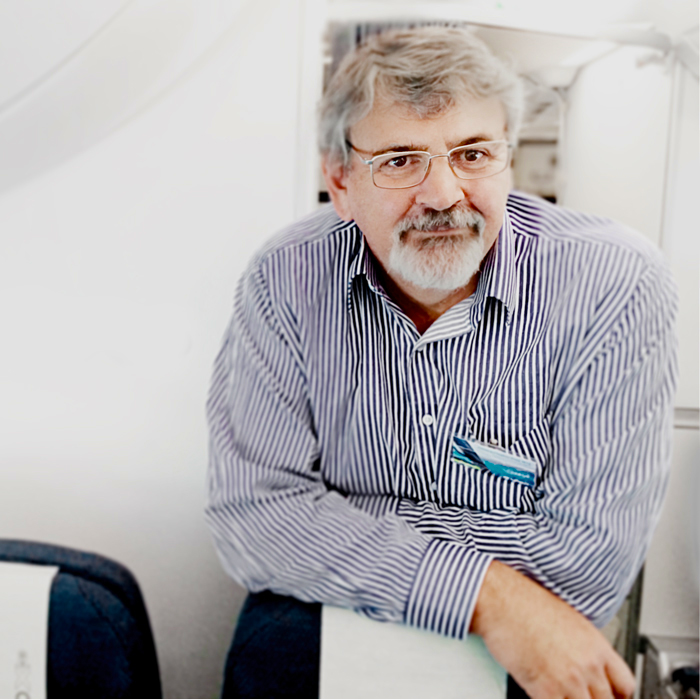 An award-winning journalist, Steve began covering aviation in the United States in the early nineties before returning to Australia later that decade and editing The Australian's aviation section for 17 years. He is editor of Airline Ratings and has co-authored books on industry initiatives aimed at reducing greenhouse emissions.
Steve has joined the AAA to write interesting and informative editorial on the aviation industry.