Building a new aerodrome is never easy but spare a thought for the unique challenges facing a world-first project to build Australia's most remote paved runway in the pristine environment of Antarctica.
Just the delivery of materials and infrastructure to build a proposed 2700m runway at Davis research station in East Antarctica is expected to take place over many years and require a combination of a large icebreaker and ice-strengthened freighters.
This would include the transport of some 11,500 pre-cast concrete pavers made in Australia and weighing about 10 tonnes each.
The concept is to transfer the 220mm thick, 5m-by-3m pavers from cargo ships to barges, transport them to the aerodrome site on trailers and lift them into position using cranes.
But before that happens, the project team expects to take a number of years to complete enabling infrastructure such as a mechanical workshop, storage facilities and a waste storage area as well as additional accommodation for about 130 construction personnel.
"As a precursor to the aerodrome construction, the first step would be to do some expansion of the existing station,'' says the project's design and engineering lead, Tim Ramm.
"That would be required to support the higher station population for construction and also all the plant and equipment required to actually build the aerodrome itself.
"That's the first step, in terms of the sequence of activities and that's what we're calling enabling work."
The runway would provide a second entry point by air from Australia. The existing ice runway is about 70kms from Casey Research Station and can only operate in the summer (late October – March), shutting down for about six weeks during this period when the ice temperature rises above -5C.
Hampered by the limited access and with global warming potentially poised to extend the shutdown period, the Australian government announced its intention to construct the Davis aerodrome in 2018.
Apart from the obvious logistical advantages of year-round access, the project is expected to result in wide scientific benefits such as higher resolution weather and climate models, improved contributions to global sea levels studies and year-round observations of wildlife and marine resources such as krill.
Geotechnical and environmental studies identified a two-square-kilometre site in rounded, rocky hills some 4.5 kilometres from Davis that remain mostly ice-free.
While still subject to environmental and other government approvals, the runway and associated infrastructure would be capable of offering year-round access to Code E aircraft capable of making the six-hour, 5000km trip from Hobart.
It is envisaged that aircraft such as a Boeing 787 and Airbus A330 could fly directly to the aerodrome from Hobart, as well as the Royal Australian Air Force's Boeing C-17A transport planes.
Planned infrastructure includes a taxiway, aircraft apron, runway lighting and buildings such as a terminal and a hangar as well as a home for rescue and fire-fighting services.
Also needed: a new wharf and an access road from the station to the aerodrome.
The project, part of the Australian Antarctic Strategy and 20 Year Action Plan, is still in the planning phase with work ongoing on environmental approvals and a final green light required from the government before construction can start.
Ramm says the AAD is looking at a "competitive alliance" delivery process with an expression of interest expected to be released later this year.
Two short-listed tenderers would then develop a detailed proposal that includes a target cost.
The runway will be the first paved runway on the continent and the Australian Antarctic Division expects the benefits of providing aircraft access to Antarctica in the cold, dark winter months to be significant, not just in terms of revolutionising scientific research but in enhancing Australia's leadership and long-term interests in the region.
Ramm says the runway needs to be Code E because aircraft will need to be able to carry enough fuel to return to Hobart if there is an issue accessing Davis.
He says the current operating model envisages three flights from Australia per month in summer and a monthly flight in winter.
Operations would be based on a hub and spoke model with feeder aircraft flying out to other Australian stations, into the field or to bases run by partnering nations.
"It's about reliable aviation access throughout the year,'' Ramm says.
The design and engineering lead acknowledges the many challenges of building a runway in such a remote and extreme environment as well as the intense scrutiny it will attract.
He notes that environmental constraints and requirements in the pristine Antarctic environment will be rigorous.
"Even site investigation works require significant planning and coordination to get information such as geotechnical data, survey data and environmental monitoring data,'' he says.
"With the site itself, there are some challenges that we're working through to better understand the geotechnical characteristics and earthworks requirements for the project.
"And there is also the long-term planning horizon. We're talking about a facility that would be built and operated in the late 2030s —by 2040."
It was the environmental limitations as much as the extreme weather than led to the decision at using pre-cast slabs.
"There are all sorts of complexities with pouring concrete in Antarctica such as the curing process, risks of quality and durability,'' he notes.
"You'd need potentially specialised infrastructure and you'd have to bring raw materials like sand and cement.
"That throws up a lot of other challenges around the biosecurity requirements, water and energy.
"The effort to produce fresh water in Antarctica, particularly around Davis is quite a challenge.
"At the moment, the station uses a reverse osmosis process and that requires energy and that requires fuel. All your supporting infrastructure needs to be considered."
Issues such as jointing and sealing in the temperatures as cold as -40C, as well as the bedding for slabs, will also need to be investigated.
Despite the difficulties, Ramm says the runway is an exciting project that will add significant capabilities to the Antarctic program, if it is approved to proceed.
"We've still got a good way to go in terms of developing the plans and concepts but it's an exciting time,'' he adds.
By Steve Creedy
Image: A Basler BT-67 used for flights between Antarctic bases lands at the Davis ski landing area.
Barend (Barry) Becker, AAD.
---
About Steve Creedy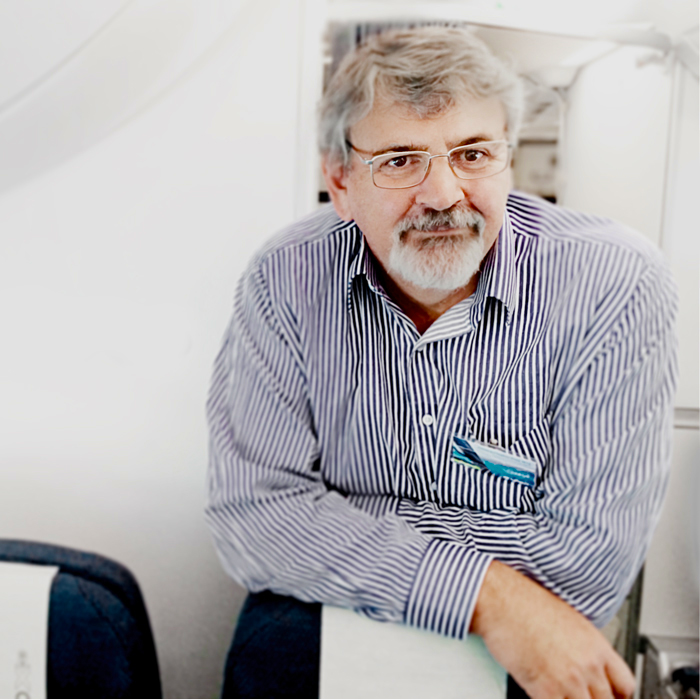 An award-winning journalist, Steve began covering aviation in the United States in the early nineties before returning to Australia later that decade and editing The Australian's aviation section for 17 years. He is editor of Airline Ratings and has co-authored books on industry initiatives aimed at reducing greenhouse emissions.
Steve has joined the AAA to write interesting and informative editorial on the aviation industry.
Subscribe Now