Airservices Australia and the nation's major airports have struck a world-first agreement that will not only save money but make the time spent out on the runway prior to take-off shorter for passengers.
The agreement to bring Airport Collaborative Decision Making (A-CDM) to Brisbane, Sydney, Melbourne and Perth airports is expected to deliver efficiencies worth $40 million to the aviation industry and cut departure waiting times by seven per cent in peak periods.
It is being set up in conjunction with the Qantas Group, Virgin Australia Group and Alliance Airlines and is an example of the advantages that can be gained when all parties work together.
A-CDM is already active in other parts for the world, but this is believed to be the first system to involve multiple airports.
It is also unusual in that it has been led by an air navigation service provider (ANSP) rather than an airport.
The agreement will see the parties connect to an IT platform that will allow information such as delays, arrivals and departures to be shared between air traffic control, airline operations centres, airport operators and ground handlers.
Some of that information is currently communicated verbally but the cloud-based platform to be introduced later this year by Saab will allow the data to be shared in real-time.
Airports and airlines will be able to use ACD-M to better respond to changing situations as well as to improve operations and reduce delays.
"The core of it is what we call the information sharing platform," Airservices ATM Network Services Manager Paddy Goodall says.
"This essentially collects all the relevant data and information such as radar information and flight schedules and feeds it into an IT platform
"Then the data from the IT platform is used by a number of functionalities"
These include a radar-like view of the airport that shows the positions of aircraft as well as optimisation tools such as a terminal departures manager that shows an optimised departure sequence and then extrapolates that back to a push-back time.
The complexity of the project means it has taken time to implement.
Airservices began the initial consultation and investment planning in 2015-16 and started to move on it in a meaningful way in 2016-17.
The project planning was more challenging than a standard ACD-M project because an agreement that was typically between two parties in this case was between eight.
"There was a whole range of different thresholds and gateways that it had to pass through in different organisations, depending on where the decision-making responsibility rested," Goodall says.
"That was basically getting word to each party and getting them comfortable.
"And if there was a change made by one party, for instance, we had to circulate and socialise that with the other seven parties.
"It really was an iterative process and I guess the planning stage did take us longer than we originally envisaged."
The Airservices business case concentrated on a reduction in taxi-out times and cutting down the amount of time an aircraft spends at a holding point with its engines running before taking off.
It wanted carriers to be able to define how long they are prepared to wait at a holding point so that the system could optimise pushback times to reduce time spent taxing or holding.
The process will more than pay for itself.
"Our modelling shows a seven per cent reduction during the peak period, but our break-even point is three per cent," Goodall notes, adding there are also benefits for the four airports as they integrate A-CDM data with their airport management systems.
"In the case of some of the airports, they're going to try and integrate it with how they move passengers through the airport," Goodall says. "They will look at queue lengths at customs, queue lengths at security — that type of thing."
Another aspect he points to is the optimisation of airside resources such as ground handlers.
"They'll have more visibility on when the aircraft has arrived and is taxiing in, they'll have better warning and predictability on who needs to push back and at what time," he says.
A requirement of the tender process with technology providers was that they provide an off-the-shelf solution that had already been in active service somewhere else in the world.
Saab has its technology already working in New York's John F. Kennedy International Airport and Hong Kong International Airport.
The advantage of this, says Goodall, is that Saab can provide a live feed of how the technology works at HKIA to show the partners.
Airservices will connect with the airports later this year and the airlines will follow in 2021.
Once everyone has connected, the ANSP will turn on the business rules across all four airports
"What that means is we'll come together periodically through the daytime to review weather forecasts, to review what's available at an airport in terms of taxiways and gates and we'll come up with a common plan," Goodall says.
"We already do that somewhat for the Metron Harmony ground delay product, but this takes it to another level, on the ground at the airport."
This means that if an aircraft has been delayed the system will be able extrapolate the information through the network so that the next airport is not waiting for a plane that is not coming.
"It connects all the information together, it's seamlessly updated and then it just flows through the system," he says.
By Steve Creedy
---
About Steve Creedy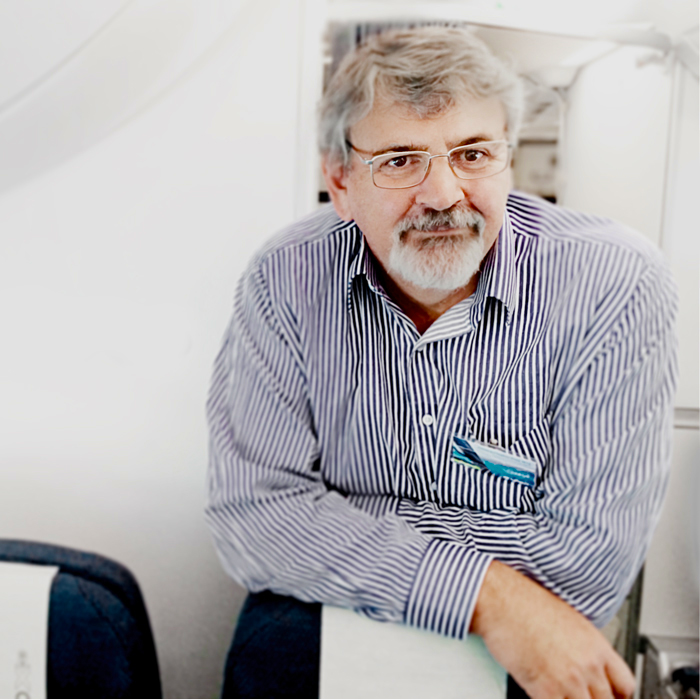 An award-winning journalist, Steve began covering aviation in the United States in the early nineties before returning to Australia later that decade and editing The Australian's aviation section for 17 years. He is editor of Airline Ratings and has co-authored books on industry initiatives aimed at reducing greenhouse emissions.
Steve has joined the AAA to write interesting and informative editorial on the aviation industry.